The Snowwolf Ease vape 8000 puffs disposable e-cigarette is the latest offering from disposable hardware maker Snowwolf. Introducing SnowWolf Ease 8000 Puffs Disposable 10-Pack, the newest line of disposable vaping from SnowWolf!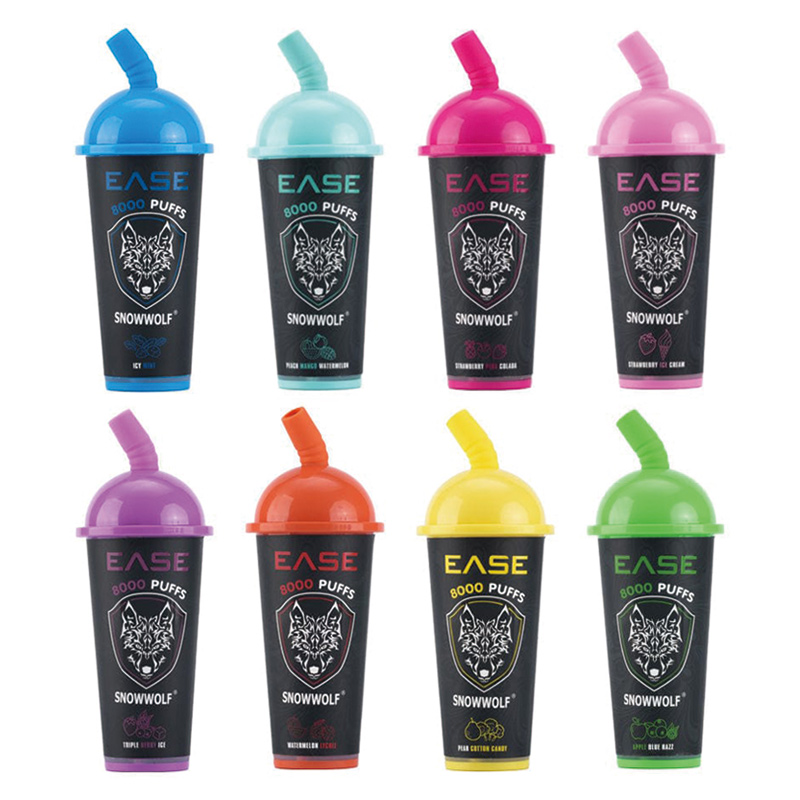 Features:
Available in 10 Pack.
50MG (5.0%) Nicotine by Volume.
18ml Pre-Filled E-Liquid.
Approximately 8000 Puffs Per Device.
650mAh Integrated Battery.
Disposable – Non-Refillable & Rechargeable.
1.0ohm Coil.
Type-C Charging Port.
Snowwolf Ease 8000 is available in 12 flavors, all in eye-pleasing vibrant colours. Packed with 50mg of Nicotine Salt e-liquid in each flavor, there's sure to be plenty of throat hit every time you draw from mouth to lung, while the 1.0 ohm mesh coil enhances flavor production.
This innovative disposable vape features a 650mAh rechargeable battery and 18mL pre-filled e-liquid capacity, allowing users to enjoy up to 8000 puffs of 5% nicotine. The Ease 8000 Puffs Disposable Vape also features an 11w wattage output, allowing users to enjoy a powerful vaping experience.
Summary
Equipped with up to 18ml of vape juice and an incredible 8000 puffs of liquid, the Ease features 15 different flavors that are decadent, rich and complex. If you're looking for a great-tasting, long-lasting disposable product, you've found it.
Other kits you may prefer:
naked american patriot
lost vape centaurus m200