Our new Medterra Pet CBD Calming Soft Chews are made with calming ingredients like Valerian Root and L-Tryptophan to help keep your pet happy and relaxed. Contains 10mg of CBD per chewable tablet, making it easy to track and monitor your pet's serving size.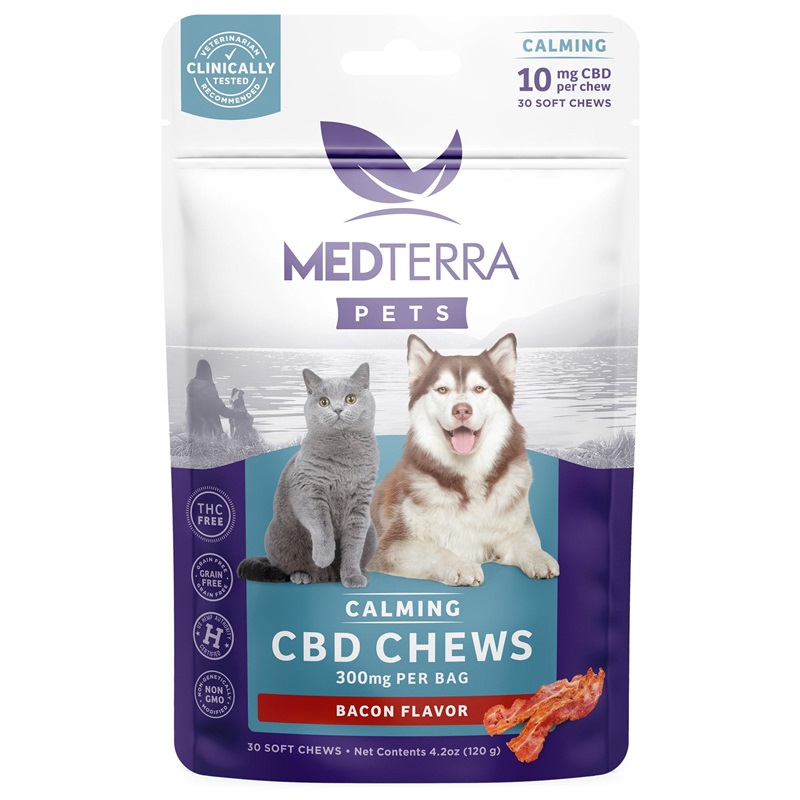 Chickpea Flour, Potato Flour, Cane Molasses, Tapioca Starch, Water, Glycerin, Hemp Seed Powder, Natural Bacon Flavor, Lecithin, Organic Chamomile, Valerian Root, Safflower Oil, Organic Passion Fruit, Organic Ginger Root, L- Tryptophan, L-Theanine, Cannabidiol (CBD), Ascorbic Acid, Sorbic Acid, Calcium Propionate, Vitamin E.
CBD For Dogs
This product is suitable for dogs and cats 12 weeks and older. CBD for pets is touted as being able to do everything from calm stressed felines to treating neuropathic pain and seizures in dogs.
It is said to be anti-inflammatory, have various cardio effects, and stimulate the appetite of pets who may have lost interest in food.
Some claim it can even help treat cancer. Scientific data on the effectiveness of CBD for pets is still lacking, but anecdotal evidence from pet owners suggests that some CBD products for pets have improved aspects such as pet behavior and joint health.
Our premium CBD is grown and extracted in the USA in full compliance with Kentucky Department of Agriculture Hemp Pilot Program requirements and we are certified by the U.S. Hemp Administration.
Summary
Medterra's CBD products are 3rd party tested, completely legal, contain 0% THC, and we are able to ship them to all 50 states and internationally. You can click here to learn more details: https://vapesourcing.com/