If you're looking for a disposable cig-alike or want to try a low powered vape with plenty of nicotine, then you can't go wrong with the device I'm gonna introduce. It is named Xiaomi Taki Mini, just buy from the vapesourcing vape store online if you like.
Xiaomi Taki Mini Disposable E-cigarette comes in 5 different flavours: Mung Bean Ice, Blueberry Burst, Ice Litchi, Ice Coffee and Flue-Cured Tobacco. It is clear that they are targeted at smokers, packing 5% (50mg) Nicotine Salts, these little beasts are about the same length as a cigarette. With 1.5ml of e-juice prefilled, these disposable vapes can last about 300 puffs, which corresponds to a battery capacity of 280mAh. The estimated duration (which however depends a lot on your use) with a not high use should be about 7/8 days.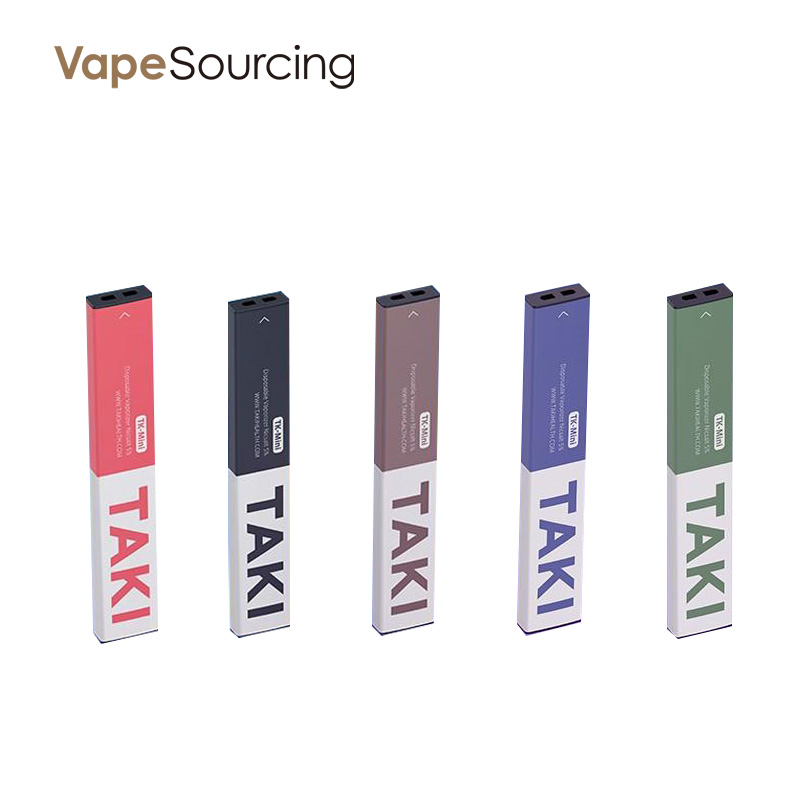 On the bottom of the device, there is an LED indicator light, with an airflow hole either side. Normally, it will light up when you take a puff. But when the device has run out, it will not light up but flash several times after you have finished inhaling. The airflow of this device is pretty much a perfect replication of a cigarette. Quite often, when the airflow is shut off or covered you still get a bit of air making its way through the joints. That's not the case on the Taki Mini, the systems are that well built when you cover the air holes with your finger absolutely no air gets through. Anyway, the Taki Mini is a good choice for handy vaping.
You may also like: voopoo drag nano cena
Parameters as below
Size: 16.4*7.4*94.2mm
Atomizer capacity: 1.5ml
Smoking times: about 300 puffs
Main ingredients: natural glycerin / medical propylene glycol/food grade spices
Nicotine content: 50mg/ml
Taste: Mung Bean Ice / Blueberry Burst / Ice Litchi / Ice Coffee / Flue-Cured Tobacco
Related blog: Need A Solid Device For Squonk Vaping? GeekVape Aegis Squonker Kit Is Here!