While traveling, I always need some portable substitutes for my bulky box mod kit or squonk mod kit. Recently I found such a decent substitute, and it is a pod system called "Idols". Just buy from the vapesourcing online store if you need it.
Idols Pod System Kit is a pocket-friendly device with a flat pen-style design. Powered by a built-in 500mAh battery, it can fire up to 13W and allows for more than 400 puffs on a full charge. When the battery is running low, it can be fully charged within 35 minutes via the micro USB port on the bottom of the device. And there is an i-shaped LED indicator light to show you the battery level anytime. The whole Idols device is very easy to operate since it adopts a draw-activated mechanism, no buttons are needed. For safety, it comes with a myriad of safety features as well.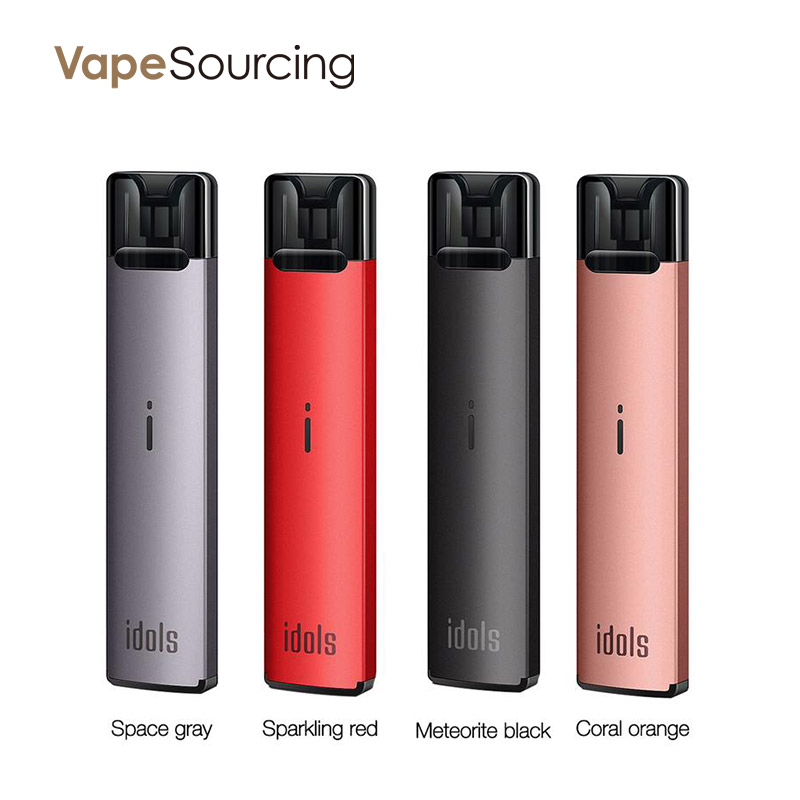 As for the pod, it can hold up to 2ml of your favorite e-juice and is refillable via an easy bottom filling structure. To prevent leakage, it is also designed with independent L-shaped air channels. Inside the pod, there is a 1.3ohm coil loaded with Japanese organic cotton, which is best for e-liquids with a high content of nicotine, including salt. All in all, at this price the Idols Pod System Kit is rather competitive in its segment.
You may also like: voopoo s trio cena
Parameters as below
Size: 105.1 x 23.3 x 11.9mm
Weight: 35g
Battery Capacity: 500mAh
E-juice Capacity: 2ml
Resistance: 1.3ohm
Output Wattage: 13W
Colors: Space gray, Sparkling red, Meteorite black, Coral orange
Related blog: The Follow-up To iStick Amnis | Eleaf iStick Amnis 2 Kit 1100mAh