The SMOK TFV12 Prince tank is far and away the best vape tank the company has released. In fact, pay no attention to the "Prince" name – this is easily the new king of SMOK's ever-growing lineup.
Constructed out of durable stainless steel, the SMOK TFV12 Prince Tank can withstand heavy everyday use. SMOK makes products that will last and this tank is no exception. Known for reliability and innovation, SMOK's releases not only improve in technology, but they are also becoming more and more stunning. The TFV12 Prince Cobra tank has a metallic mesh piece that sits inside of the glass. The design is incredible. It's reminiscent of snake scales, the way that coil technology is evolving. The SMOK TFV12 Prince feels very well put together; everything slips into place and comes apart very easily.
The main thing about the SMOK TFV12 Prince, though, is the design – it looks completely different to what came before, especially the convex glass tube, showing SMOK still has plenty of ideas when it comes to upping its game. You can, however, switch out the convex tube for a standard 5ml one if convex isn't really your style. The big upshot of the convex design, though, is that it will increase the juice capacity to 8ml. You can also pick up a selection of Cobra Drip Tips for the SMOK TFV12 Prince. There are six options available and they all feature a pretty nifty design. SMOK has also changed the top-lock mechanism too; it's now operated via a simple, clicky button. This means easier access, better locking, and less mess. SMOK says this tank will not leak ever.
And like the TFV8 and TFV12 before it, the SMOK TFV12 Prince comes with full RBA capabilities, meaning you can build your own coils with the tank, which is great for those that like to build coils. It also reduces the amount you'll spend on coils as well. Like 100% of pre-made sub-ohm coils in existence, performance is inconsistent at best which means you have bad ones and good ones.
Overall the SMOK TFV12 Prince is a winner. Even with concerns about proprietary coils, there's simply no denying how strong of a performer the Prince turned out to be. It's believed that this is the best representation of the TFV series to date, with innovative design changes and a generous coil offering right in the box.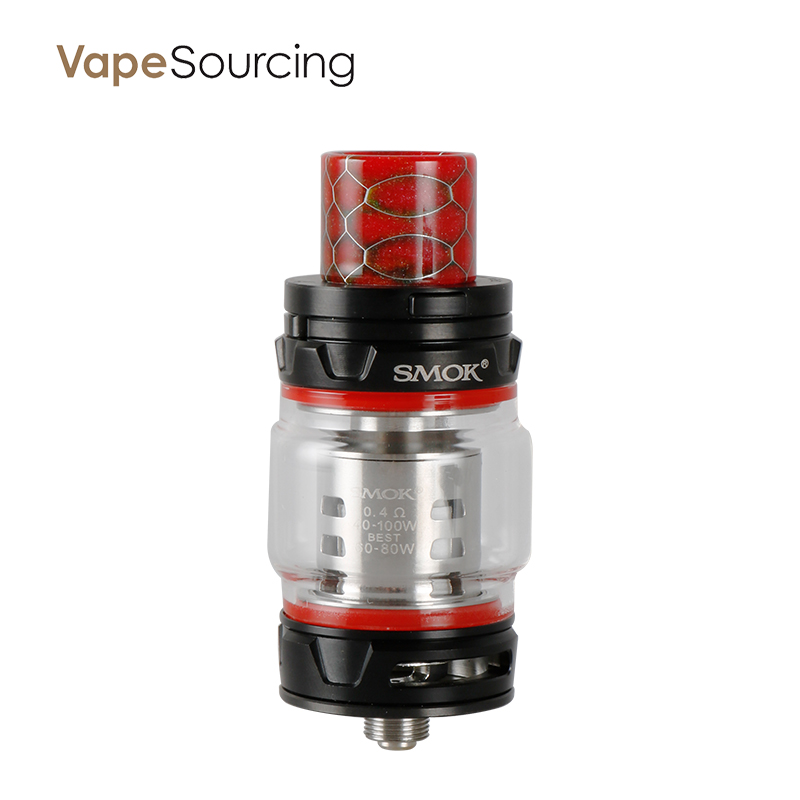 Parameters
Capacity: 8ml
Size: 63mm (H) * 28mm (D)
Material: Stainless Steel
Thread: 510
You may also want to view
zeus x mesh micromesh coil
geekvape aegis max mod