The Uwell Crown 4 atomizer utilizes the new and improved Crown 4 Plug and Pull Replacement Coil Family, with a threadless design that features reinforced seals to provide a liquid-tight fit and finish. Today we present you this sub ohm tank and by the way state the former version Uwell Crown 3, which bring us more fun by vaping.
1. Uwell Crown 4 Sub Ohm Tank
Uwell Crown 4 Sub Ohm Tank is an excellent mid-wattage tank with superior construction, a convenient Plug and Pull coil system, and ergonomic designs throughout.
Uwell returns in 2018 with the Crown 4, an evolutionary update to one of the most beloved Sub Ohm Tank platforms in the history of our industry, featuring a 28 mm diameter base with a maximum capacity of 6 ml and a new and improved Crown IV parallel Coil design. With a 28mm diameter base, the Uwell Crown 4 Tank features a sleek, smart design that combines an attractive design.
The adjustable bottom airflow makes for smooth and effective airflow and can be fully closed to seal the system effectively. Uwell crown 4 sub ohm tank features top filling design and you could enjoy easier filling method.
Features and Specs:
Size: 28*54.8mm
Material: Stainless Steel, Glass & Silicone
Innovative patented self-cleaning technology, no leakage
SS & Pyrex Glass construction, durable and gorgeous
Compatible with Dual SS904L coil and Double helix mesh coil
Dual SS904L coil brings better corrosion resistance
Mesh coil heats evenly, produce excellent flavor
Top filling design, easier to refiling
Adjustable bottom airflow system
2. Uwell Crown 3 Sub Ohm Tank
In the third version of the crown, a new threaded and sealing connection is used to avoid leaks and new vape tanks. Like Uwell 4 improved from it, Uwell Crown 3 is an upgraded series of the Uwell Crown 2, which received a new design. The height of the atomizer, compared with the Uwell Crown 2 Sub Ohm Tank, was less, but the volume increased to 5 ml(Uwell 4 can hold a 6ml large capacity of e-juice).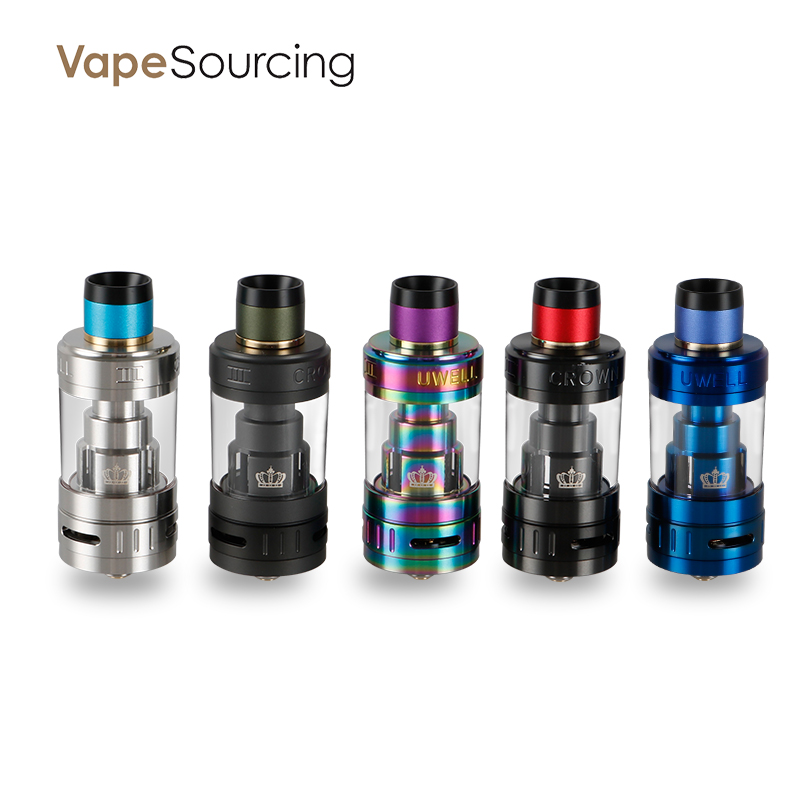 Dimensions:
Height – 62.7 mm
Diameter -24.5 mm
Volume – 5 ml
Weight 63.5 gr
Tank inspection
The Uwell Crown 3 III Sub Ohm Tank is made of stainless steel, which is coated with electroplating (except for the steel version), which means that the device will be scratch resistant.
The tank is rich in colors. Five options of colors: black, steel, black matte, sapphire blue, iridescent.