Hello, dear vapors. Today we will learn about two old mod from Wismec, one is with modern function, like blue tooth and can listing musics and another is of course the Reuleaux DNA250 Mod, which is very retro.
Musical box mod is already familiar to you – Wismec Active mod, therefore I just remind you of the characteristics. By the way, pay attention – new colors have been added.
Dimensions: 94.5 x 55.6 x 26.6mm (141 x 55.6 x 26.6mm whale completely)
Weight: 166.4g (199.3g whale completely)
Case material: plastic + metal + silicone
Power: built-in 2100mAh
Output power: 1 – 780W
Voltage range: 0.5 – 9.0V
Peak current: 50A
The vape tank looks quite simple. Is that tinted in the color of the body "glass" and Drip type give a little "intrigue", and then just a little bit.
The cover is movable, the opening for filling is small, as is the capacity of the atom itself. Moreover, the flask is made entirely of plastic.
Tightening adjustment is implemented using a rotating ring with risks at the base of the non-service. The air intake is only one, the point adjustment for the MTL evaporator is not seen.
2. Wismec Reuleaux DNA250 Mod
The exterior design of the Wismec reuleaux dna 250 tc mod combines a minted pattern and a bronze color. The front panel and the compartment cover, under which the batteries are hidden, are decorated with patterns.
But, even despite the fact that the box mod has received a new design, all the dimensions and external outlines of the Wismec RX200s still remain noticeable. Appearance as it hints at us that this device is premium classia and looks expensive and solid.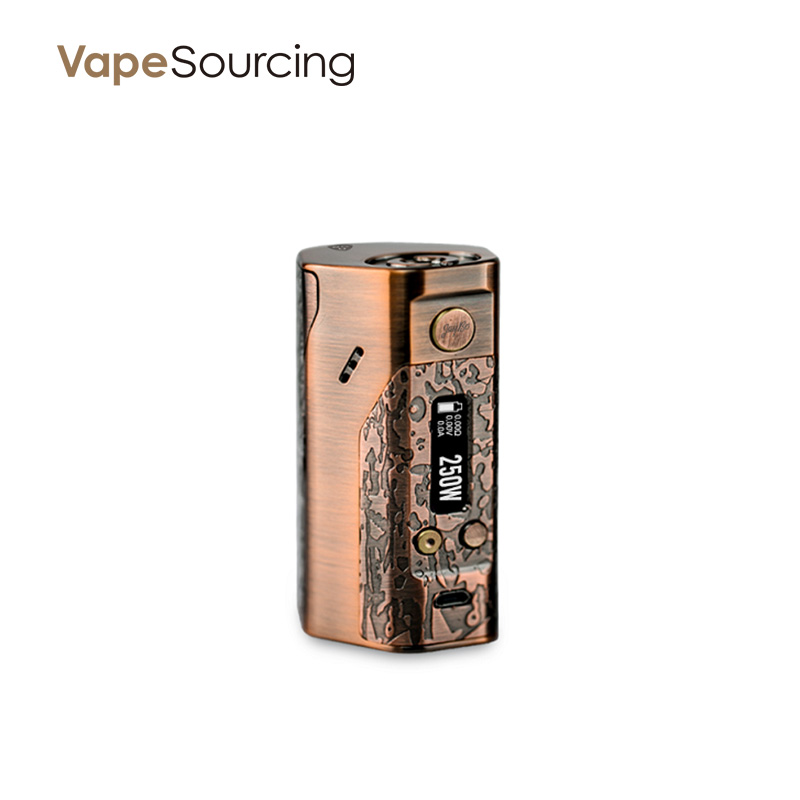 In order for the box mod to serve its owner for a long time, the manufacturer decided to leave the 510th steel connector, which contains a spring-loaded brass pin. The huge top platform will allow you to install even the most sophisticated tank or drip, but still the external design limits the color combination, but this is not a critical point, the main thing is to work to the maximum.