After releasing Wismec Tinker Kit, it launched two Kit from SINUOUS series, which separately with 80W and 200W output, they all with Amor NSE Tank, here we will make an explanation.
1. WISMEC SINUOUS V80 Kit
Wismec SINUOUS V80 kit with semitransparent body is elegantly designed and manufactured. Powered by a single 18650 battery, it reaches a power of 80W along with a sequence of other unique features, including a 510 centered connector, a 2A fast charge and a 0.91-inch OLED display. Love NSE, a practical harness designed for the vaporization of both MTL and DL.
The complete non-service – Amor NSE Tank already, it seems to me, pretty much amused. However, the developers have persistently "shoved" it in almost every new set lately. It is possible that she has undergone cosmetic changes, but I did not notice this 🙂
SINUOUS V80 Mod
Size: 27mm * 34mm * 81mm
Output power: 1-80W
Output mode: VW / Bypass mode / TC-Ni / TC-Ti / TC-SS / TCR
Resistance range: 0.05-1.5 ohms for TC modes
0.05-3.5 ohms for VW mode
2. WISMEC SINUOUS V200 Kit
The Wismec Sinuous V200 kit is made up of the modern SINUOUS V200 and the profitable Amor NSE tank, which are the best set both for its appearance and for its features. Unlike conventional e-cigs, the SINUOUS V200 impresses us with its transparent body and its 510 centered connector.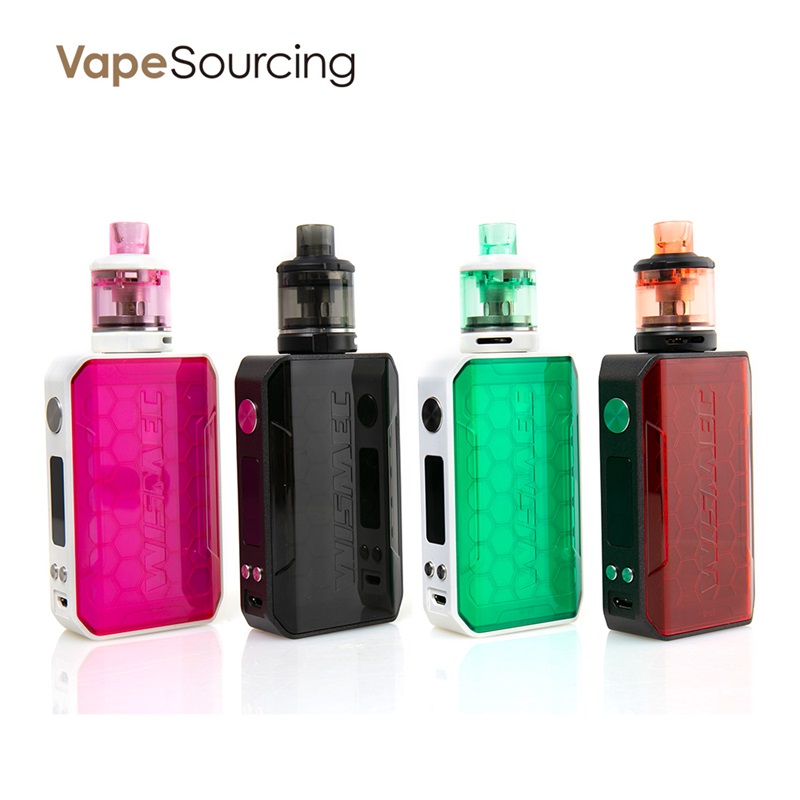 Wismec SINUOUS V200 is able to produce 200 watts output and a fast 2A load capacity. For the Amor NSE Tank, a practical harness design is suitable both to MTL and DL.
SINUOUS V200 Mod
Size: 88.8mm * 53.2mm * 25mm
Output power: 1-200W
Output mode: VW / TC-Ni / TC-Ti / TC-SS / TCR
Mode Resistance range: 0.05-1.5 ohms for TC mode, 0.05-3.5 ohms for VW mode
Temperature range: 100-315 ℃ / 200-600 ℉ (TC modes)
Maximum load current: 2A
Output voltage range: 0.5-8V
Related article recommended:
Sport and Style – WISMEC Luxotic DF Kit VS Wismec Reuleaux Tinker Kit