In the ever-evolving world of vaping, innovation reigns supreme. Introducing the OXBAR Magic Maze Pro 10K, a disposable vape device that sets a new standard for the industry. Let's dive into the captivating features of this cutting-edge product.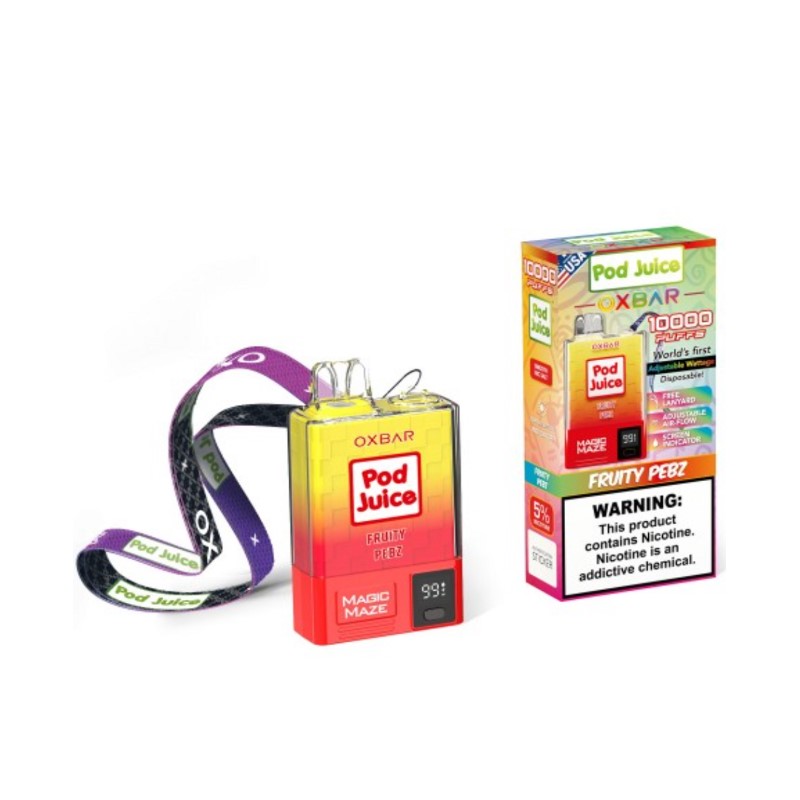 Limitless Vaping Pleasure:
The Magic Maze Pro 10K doesn't hold back. With an astounding 10k puffs vape in its arsenal, you're in for an extended vaping journey. No more frequent refills or recharges, this is convenience at its finest.
Flavorful Delights:
This device boasts a capacity of 18mL, and it doesn't stop there. With a nicotine strength of 50mg, you'll experience flavor depths like never before. The Magic Maze Pro 10K uses Pod Juice E-Liquid for selected flavors, ensuring a premium vaping experience.
Mesh Coil Magic:
A 1.0ohm Mesh Coil takes center stage in this masterpiece. The result? Impressive vapor production and unparalleled flavor.
Tailored to Your Liking:
One size doesn't fit all, and this device knows it. The Magic Maze Pro 10K offers adjustable airflow, allowing you to customize your vaping experience precisely the way you want.
Stay Informed:
A sleek display screen keeps you up to date on your battery charge and eJuice levels. No more guessing; with this device, you're in control.
Variety is the Spice of Life:
Delve into a world of flavors. The Magic Maze Pro 10K is available in a plethora of tantalizing options. Whether you prefer fruity, menthol, or something entirely unique, there's a flavor waiting for you.
A Word of Caution:
This product contains nicotine and carries a California Proposition 65 warning. Vape responsibly and be mindful of its usage.
In conclusion, the OXBAR x Pod Juice Magic Maze Pro 10K is more than just a disposable vape device; it's a gateway to a world of flavor, convenience, and innovation. Don't miss your chance to experience the future of vaping. Try the Magic Maze Pro 10K today, and let your vaping journey begin!