If you're an avid vaper constantly on the lookout for the latest in the world of disposable vape kits, you'll definitely want to hear about the BREZE STIIK 6500. This article dives deep into what makes this disposable vape kit stand out from the crowd and why it's creating quite a buzz among vaping enthusiasts.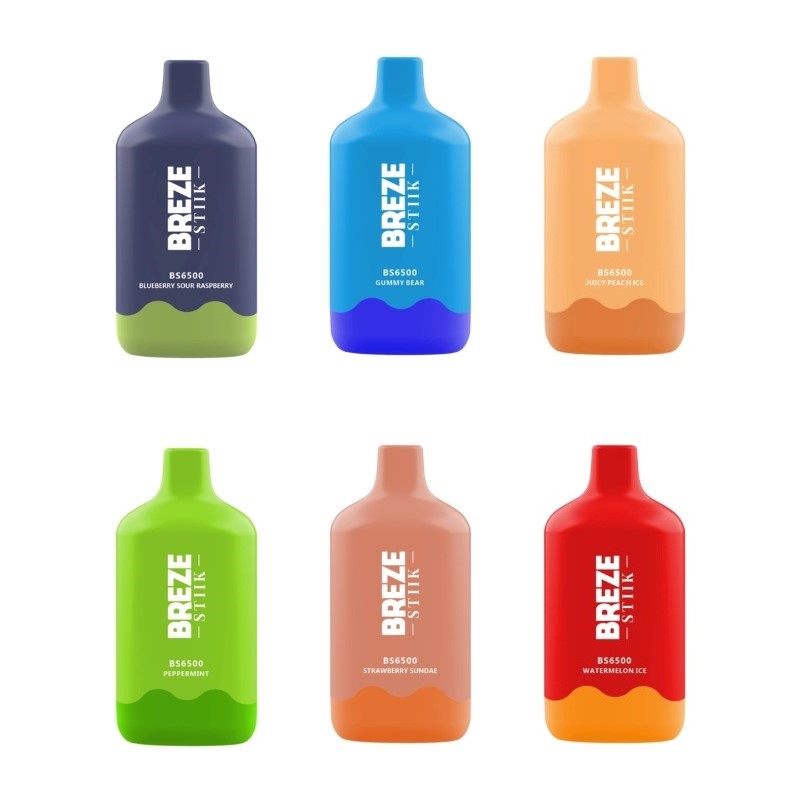 Stylish and Attention-Grabbing Design:
The first thing that catches your eye when you lay your hands on the BREZE STIIK BS6500 is its vibrant and stylish design. These disposable kits are dressed to impress with their colorful exteriors. Whether you're into classic black or you want to make a statement with bold, eye-catching colors, there's a BS6500 for you.
Compact, Convenient, and On-the-Go:
The BS6500 isn't just a pretty face; it's designed for convenience and portability. With its compact form factor, it easily slips into your pocket or purse, making it the ideal companion for those constantly on the move. Plus, the flat mouthpiece ensures a comfortable vaping experience, allowing you to enjoy your favorite flavors with ease.
Diverse Flavor Selection:
One of the standout features of the BREZE STIIK BS6500 is its diverse flavor selection. With 12 mouthwatering options to choose from, you're sure to find a flavor that tickles your taste buds. From the fruity explosion of tropical blends to the icy coolness of menthol and the indulgence of dessert-inspired flavors, the BS6500 offers a flavor for every palate.
Impressive Technical Specs:
Under the hood, the BS6500 boasts some impressive technical specs. It comes with two nicotine strength options—2% and 5%—ensuring that you can find the right balance for your nicotine cravings. With a sizable 15ml eliquid capacity, you won't find yourself refilling this device frequently. Plus, the 400mAh battery keeps you vaping for an extended period.
Type-C Charging for Speed and Efficiency:
The BREZE STIIK BS6500 takes advantage of Type-C charging technology, ensuring that you spend less time waiting for your device to recharge and more time enjoying your favorite flavors. The convenience of Type-C can't be overstated, especially for those who are constantly on the move.
Conclusion:
In conclusion, the BREZE STIIK BS6500 Disposable Kits are more than just a vaping device; they're a statement piece that adds a pop of color to your vaping experience.
With a wide array of flavors, impressive technical specifications, and a commitment to style and convenience, the BS6500 is setting a new standard in the world of disposable vape kits. So why wait? Head to your favorite online vape store and experience the vibrant world of BREZE STIIK BS6500 for yourself.