Horizon Tech, renowned for its exceptional sub-ohm tanks like the Falcon King, Falcon 2, and Sakerz Master, has taken the vaping world by storm with their latest innovation – the Binaries Cabin line of disposable vapes. Let's delve into the world of the Horizon Binaries SV15000 Disposable Vape Kit and discover what makes it a standout choice among vapers.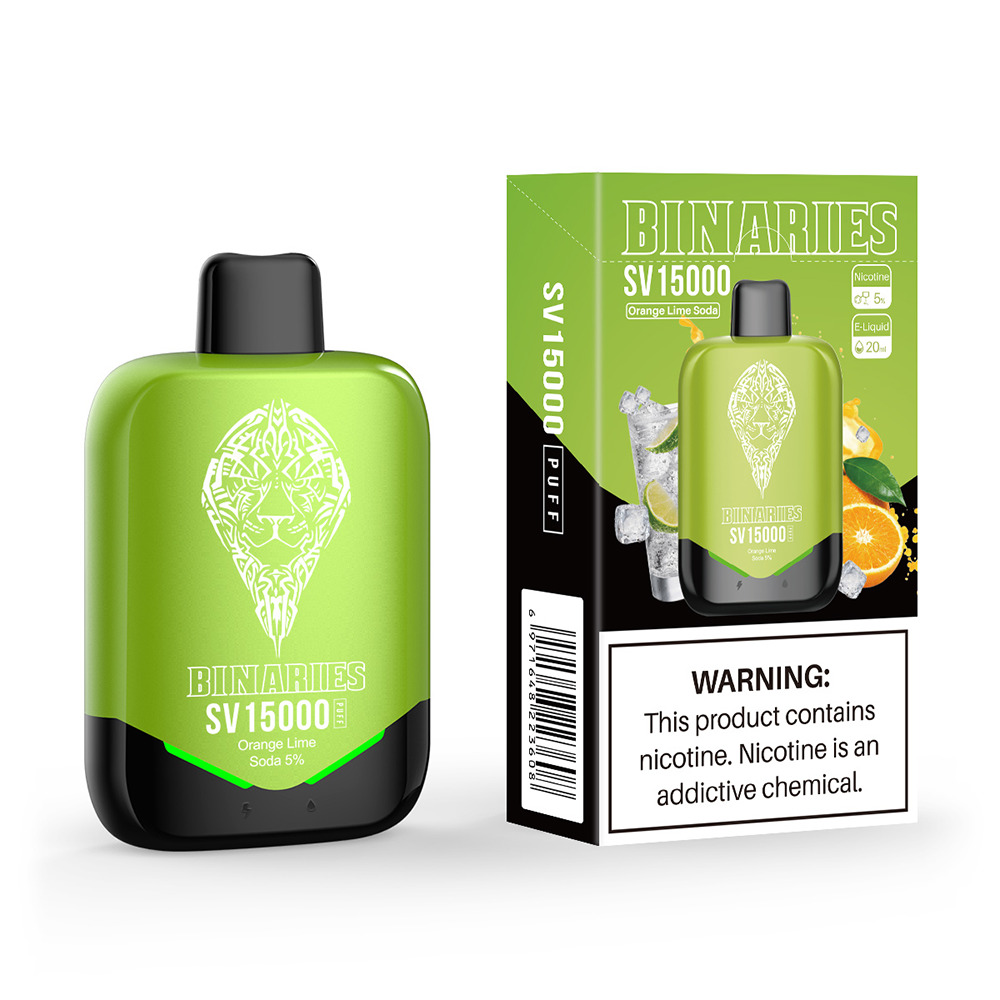 A New Horizon of Vaping
Horizon Tech's Binaries Cabin disposables are not your average vaping devices – they're a fusion of innovation, style, and performance. These disposables break the mold with their larger-than-life design, rivaling even some box mods in size. Their unique design sets the stage for an exceptional vaping experience.
A Flavorful Odyssey
One of the most intriguing aspects of the Binaries Cabin line is the astonishing 20ml of e-juice pre-filled within. This impressive capacity, combined with a claim of up to 10,000 puffs, ensures an enduring vaping journey that's sure to impress. With a staggering 21 flavors to choose from, including Grape Ice, Green Grape Apple Ice, and Watermelon Raspberry Ice, you're bound to find your perfect match.
A Symphony of Strengths
Horizon Tech understands that vapers have diverse preferences when it comes to nicotine strength. The Binaries Cabin disposables cater to all, offering nicotine strengths of 20mg, 30mg, and 50mg. Whether you're a seasoned vaper or just beginning your journey, these disposables provide options that suit your needs.
Unveiling the Unseen
The Horizon Binaries SV15000 Disposable Vape Kit boasts an adjustable airflow feature that caters to both Mouth-to-Lung (MTL) and Restricted Direct-to-Lung (RDL) draws. This versatility allows you to fine-tune your vaping experience to match your style and preferences.
More Than Meets the Eye
Don't be fooled by its square disposable vape label – the Binaries Cabin disposables come equipped with a 650mAh rechargeable battery, providing ample power for extended vaping sessions. The inclusion of a Type-C charger ensures efficient and rapid recharging, keeping you vaping without interruptions.
Style Meets Substance
Crafted from high-quality plastic, the Binaries Cabin disposables feature a leather-like wrap that not only adds to the device's style but also enhances grip. The flavor names and nicotine strength are elegantly printed on the device, ensuring a seamless and user-friendly experience.
A Choice for the Discerning Vaper
The Horizon vape Binaries SV15000 Disposable Vape Kit is a testament to Horizon Tech's commitment to innovation and quality. With a multitude of flavors, adjustable airflow, and a rechargeable battery, these disposables offer a vaping experience that stands out in a crowded market.
Whether you're a beginner or an experienced vaper, the Binaries Cabin line promises a journey filled with flavor, performance, and satisfaction. Embrace the future of vaping with Horizon Tech's Binaries Cabin disposables and elevate your vaping journey to new heights.