Elf World PE10000 disposable pod device is the latest product in the field of electronic cigarettes. Featuring a sleek, pillow-shaped design, the device is a must-have for anyone who likes to smoke on the go. There are battery and liquid indicators on the front of the unit, so you always know how much charge and liquid you have left.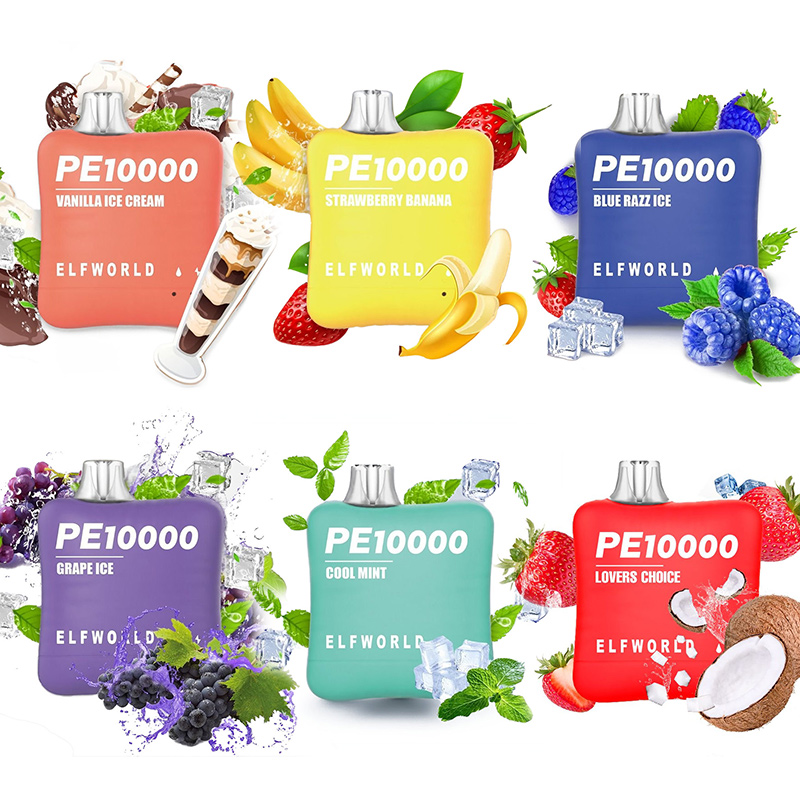 Specifications:
1.Puffs: 10000 Puffs,
2.Ejuice Capacity: 18ml,
3.Nicotine Strength: 0%, 2%, 3%, 5%,
4.Coil Type: Mesh Coil,
5.Battery Capacity: 500mAh,
6.Charging Port: Type-C.
Mesh coil
The Elf World PE10000 Disposable Vaping Device is equipped with a mesh coil that provides rich flavors and a smooth puffing experience. With up to 10,000 puffs of suction and 18ml of e-liquid capacity, you can enjoy the fun of e-cigarettes for a long time without refilling or charging.
Different nicotine strengths
The device is available in four different nicotine strengths – 0%, 2%, 3% and 5% – giving you the freedom to choose the one that suits your needs. The mesh coil type ensures you get the best possible flavor and steam production, making every puff a satisfying experience.
Battery
The elf world PE10000 disposable pod battery has a capacity of 500mAh and is equipped with a Type-C charging port for fast and efficient charging. You don't have to wait long to start vaping again. Plus, the device comes in 14 different flavors, so you can choose the one that suits your taste buds best.
Conclusion
In conclusion, if you are looking for a stylish, high-performance and easy-to-use disposable vaping device, then Elfworld vape PE10000 disposable vaping device is your best choice. With its long-lasting battery, rich flavors and convenient design, this device is sure to become your go-to vaping companion.