In the dynamic realm of vaping, the Rincoe Manto Aio Plus 2 Pod Kit takes center stage, offering enthusiasts a fusion of innovation and performance. Highly anticipated and met with fervent expectations, this device carries the legacy of the Rincoe brand while delivering a versatile and formidable vaping experience.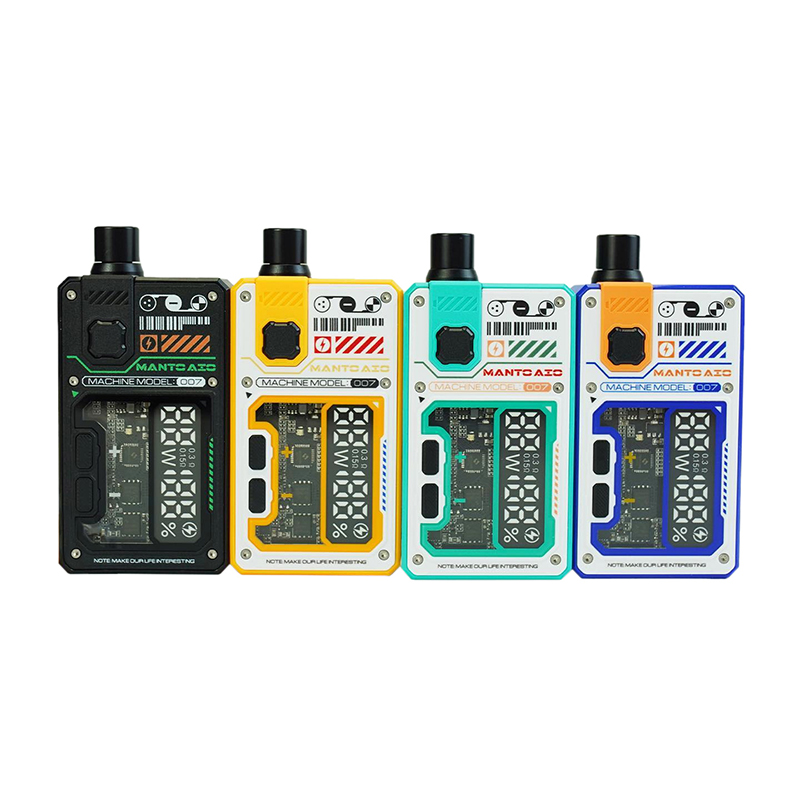 The Power Packed in Design
The Manto Aio Plus 2 emerges as a solid contender in the vaping world, embracing a solid and chunky design that exudes robustness. Available in a sleek Carbon Fiber version, the device is poised to make a statement. The inclusion of an 18650 battery contributes to the device's weight, promising extended battery life to accommodate even the most enthusiastic vapers.
Ergonomics at Your Fingertips
Ergonomics meet functionality with the Rincoe Manto Aio Plus 2. The device features a small screen displaying vital statistics, accompanied by adjustment buttons for precision control. The ergonomic fire button ensures comfortable handling, inviting vapers to indulge in a smooth and effortless experience.
A Pod of Possibilities
Nestled within the Manto Aio Plus 2 is a 3ml juice-holding tank that houses a trio of coils. The selection includes the 1.2ohm MTL coil, the 0.3ohm mesh DTL coil, and an RBA option (available separately). These diverse coils cater to different preferences, allowing vapers to explore both Direct-to-Lung (DTL) and Mouth-to-Lung (MTL) vaping styles.
Performance That Commands Attention
Beneath its exterior, the Manto Aio Plus 2 boasts an 80W power output that promises a vaping experience brimming with intensity. The quick firing time ensures that every puff is met with immediate gratification, satisfying even the most demanding of vapers.
Pros and Cons Explored
The Manto Aio Plus 2 Pod Vape Kit carries a selection of advantages that have garnered praise within the vaping community. Notable pros include its generous juice capacity, compatibility with the 18650 battery, and a commendable maximum wattage of 80W. The device's adeptness in temperature control and its sturdy build quality further contribute to its allure. Additionally, the option to indulge in both DTL and MTL experiences, along with the availability of a rebuildable AIO feature, offers vapers a diverse range of possibilities.
However, no device is without its drawbacks. Some vapers have noted difficulty in achieving optimal flavor with the RBA option, while the longevity of the 1.2ohm MTL coil has sparked criticism. The device's weight, attributed to the 18650 battery, is also acknowledged as a potential con.
Navigating the Crowded Market
While the Rincoe Manto Aio Plus 2 Pod Kit performs admirably as an AIO device, it enters a vaping market brimming with choices. It stands as a testament to Rincoe's dedication to quality and innovation, yet its introduction may have been overshadowed by an already bustling landscape of vape devices.
In Conclusion
With Red's insight as an internationally published journalist and reviewer in the vaping industry, it's evident that the Rincoe vape Manto Aio Plus 2 Pod Kit leaves an impression, though the vaping world's diverse offerings may dictate its ultimate trajectory.